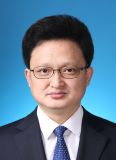 Assoc. Prof. Chaohui Zhang
Jilin University, China
Brief Biography:
Prof.Zhang has been engaged in the teaching and research of management theories and methods for a long time, and is currently an associate professor, doctoral supervisor, and deputy director of the Business School of Jilin University. His main research fields include quantitative economics, e-commerce, and data mining. Prof.Zhang has participated in and completed more than ten national, provincial and ministerial projects, and published nearly 20 academic papers as the first author in important domestic and foreign journals. As a visiting scholar, Prof. zhang went to the Terry School of
Business at the University of Georgia in the United States for one year from 2010 to 2011, and established a long-term academic partnership with his co-supervisor Richard T. Watson. In 2019, Prof.Zhang was selected as the 2019-2020 China-Canada Scholar Exchange Program
scholarship recipient after the joint review by the China Scholarship Council and the Canadian Embassy and Consulate in China. The Canadian government provides a full scholarship to support the applicant as a visit scholar.